First, slide basic settings
1.1 Functions and Functions
Slides are the best advertising space on a website. Good slide effects can attract users to promote conversion rates.
1.2 Setting the path
Website editing page-add modules on the left-slideshow-drag modules to the appropriate position on the page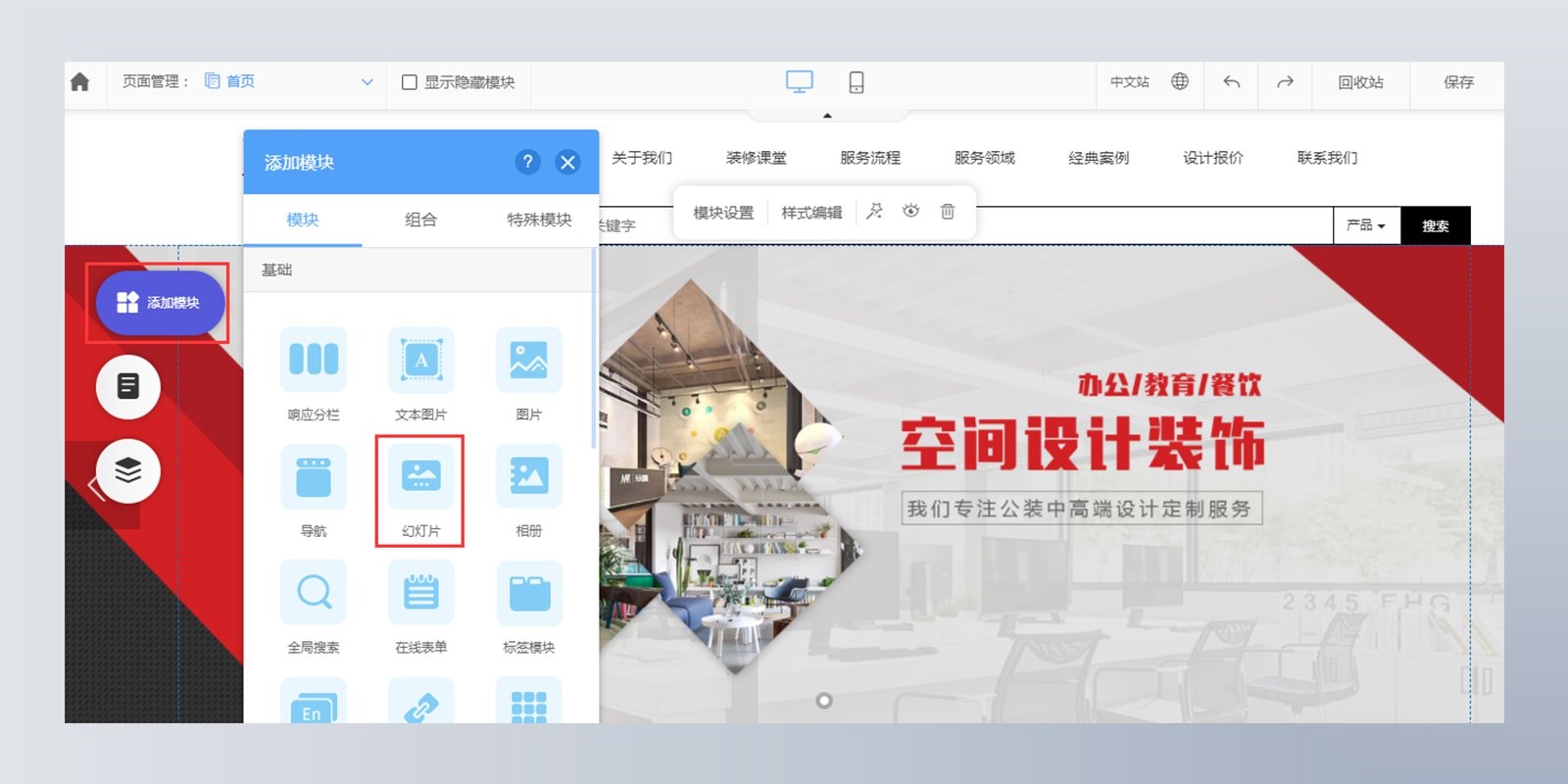 ---
1.3 Function settings
Can set slide style, add / delete pictures, make hyperlinks, adjust switching time
---
1.4 Slideshow effect
Bottom circular thumbnail

Side round thumbnail

Carousel carousel

Switch carousel left and right

Carousel with title
With thumbnail carousel
Hover thumbnail
Slideshow thumbnail carousel
Carousel with side thumbnails

---
Second, slide free container function
2.1 Use scenarios:
1. New product launch publicity map: product picture text introduction guide action button combination, let customers quickly understand the new product.
2. Website homepage advertising picture: slide picture search box button module digital increment module combination, not only allows users to search for the information they want, but also demonstrates the strength of the company and increases user trust
3. Promotion of corporate brand value: a combination of slide picture text button modules, highlighting the text part, and conveying brand values.
---
2.2 Related settings
a. After adding a slide module, add a drag module to the slide (temporarily supports adding graphic, search, button, form, and number increment modules)
b. The added module can be scaled and dragged arbitrarily.
---
common problem:
Q: Why can't I set the picture switching time?
A: Some styles do not support switching time. Only some styles can be set. Q: What is the general aspect ratio of an image?
A: Banners for PC websites are generally 1920px wide, and the recommended height is between 400px-600px. The recommended width for mobile phones is 750PX, and the height is 300px-500px.
Q: What formats does the picture support?
Answer: General jpg, png, and gif are supported.
Q: Q: The slides of the free container have no effect on the phone?
Answer: The slides of the free container only work on the PC side, and the mobile phone side needs to be added separately.
If there is no special note, the articles are original from Bojiu. Please reprint from http://sjjtq888.com/help/h5/zx/20190520/1939.html